Sorry for the inconvienence, but I have no time to update and maintain this webpage due to college.

Updates

New World Coming Down Guitar tabs just added!!

A Peter Steele shrine from the Hard Rock Cafe in NYC

New tour dates!!

On January 17th, my high school conducted a talent show in which my band (Artificial Intelligence) did our favorite Type O cover of Black No. 1, I'll post some pics soon!!
"I refuse to accept the view that mankind is so tragically bound to the starless midnight of racism and war that the bright daybreak of peace and brotherhood can never become a reality." Daniel Wolff
-=Order World Coming Down by Type O Negative=-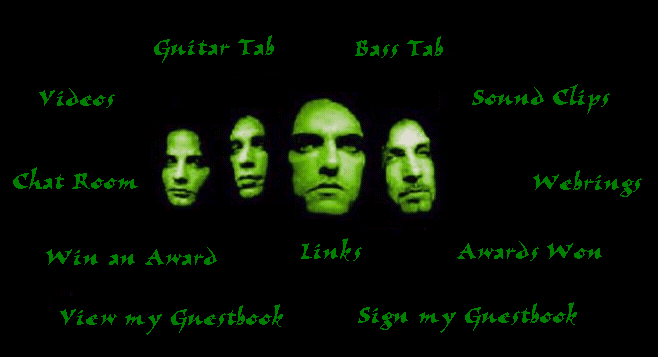 8 pics from the Love You to Death video
FUNCTIONLESS ART IS SIMPLY TOLERATED VANDALISM

Kenny Hickey - Guitar and Backing Vocals
Josh Silver - Keyboard and Backing Vocals
Peter Steele - Vocals and Bass
Johnny Kelly - Drums
WE ARE THE VANDALS
MEMBER
of the POD
Find out very time I add new links or tab, or even some news!

NO HOPE = NO FEAR

FastCounter by bcentral
Type O Negative fans since June, 1998
Put my banner on your page, or we can even swap links, if we swap links, let me know, thanks.